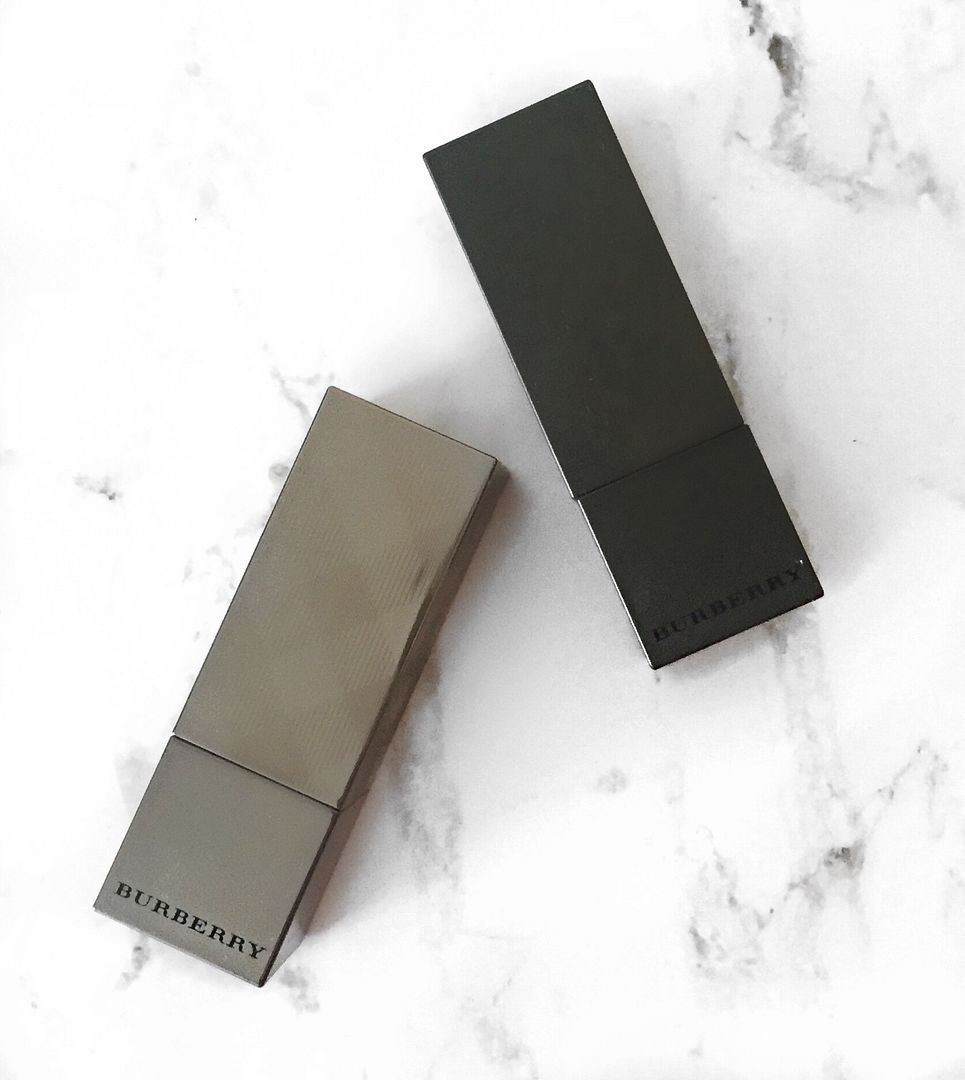 Hello September, where did you come from? It feels like this year is just flying by and before we know it we'll be celebrating Christmas and welcoming in another new year! Before I get ahead of myself and start getting exciting about December, there's a lot that excite me about September, the change of season as we go in to Autumn, or Fall if you prefer the American terminology (I personally love both), not only brings a wardrobe change but also a makeup change. I love getting to change my makeup to match the season and I am seriously looking forward to wearing two of my all-time favourite lipsticks from Burberry.
Oxblood and Rosewood, both very different to one another but both are the perfect duo for me to see my makeup looks through as we go in to Autumn. A deep burgundy plum in a satin finish creates the perfect Autumnal bold berry lip, and a peach toned nude in a matte finish, that creates a plump soft look effect, perfect for every day wear. The Burberry lipsticks are housed in such satisfying packaging; the lid closes to the body magnetically (so satisfying), the metal finish reflects the finish of the lipstick, shiny metal look for glossier lipsticks, and matte metal look for the matte finish lipsticks. Of course, the Burberry check print runs through the case and on to the actual bullet of the lipstick, I wouldn't expect anything less from Burberry!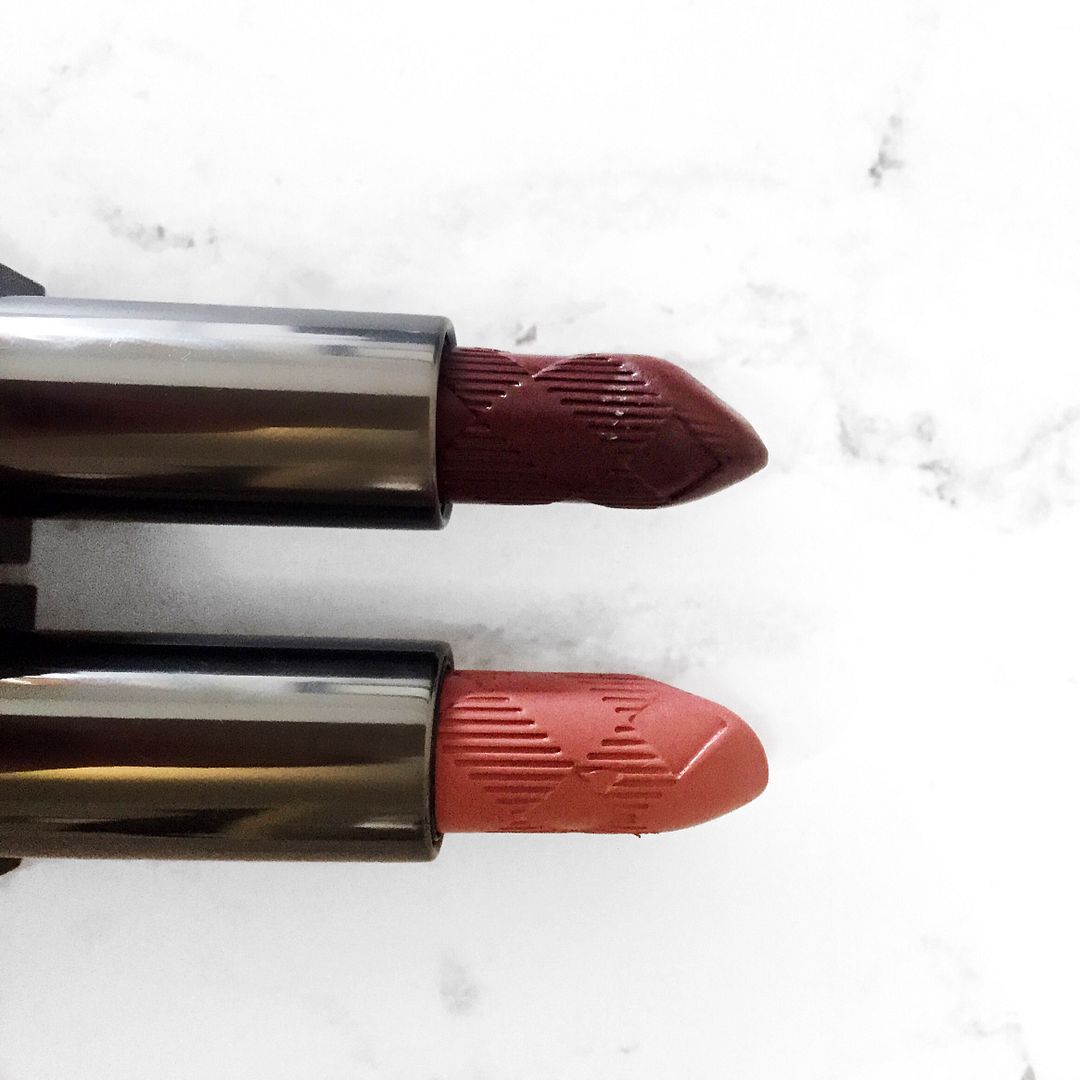 The lipstick quality is fantastic, instant colour payoff, creamy textures regardless of the finish, never drying and I've never had them bleed out so lip liners are not a necessity, even on the darker colour lipstick! Both are such universally flattering shades, they look beautiful on the palest to the darkest skin tones and everything in between, on young or old skin, it doesn't matter, I haven't even seen these lipsticks not look beautiful on someone. I recommend them constantly, in fact my friends are probably sick of me raving on about them but they are worth it I can assure you that, the amount of times I've enabled people to buy them is just silly, but I wouldn't recommend something this much unless I personally loved it.
Swatches above in normal lighting. Swatches below in direct sunlight.
If you're looking for the perfect berry shade to transition your makeup looks in to Autumn, then the
Burberry Kisses Lipstick in Oxblood No.97
is the one for you. If you just can't part with the softer look of nude lips, then the
Burberry Lip Velvet in Rosewood No.421
is your one, hosting a hint of peach to liven things up a bit, Rosewood works wonders for the illusion of plumper lips!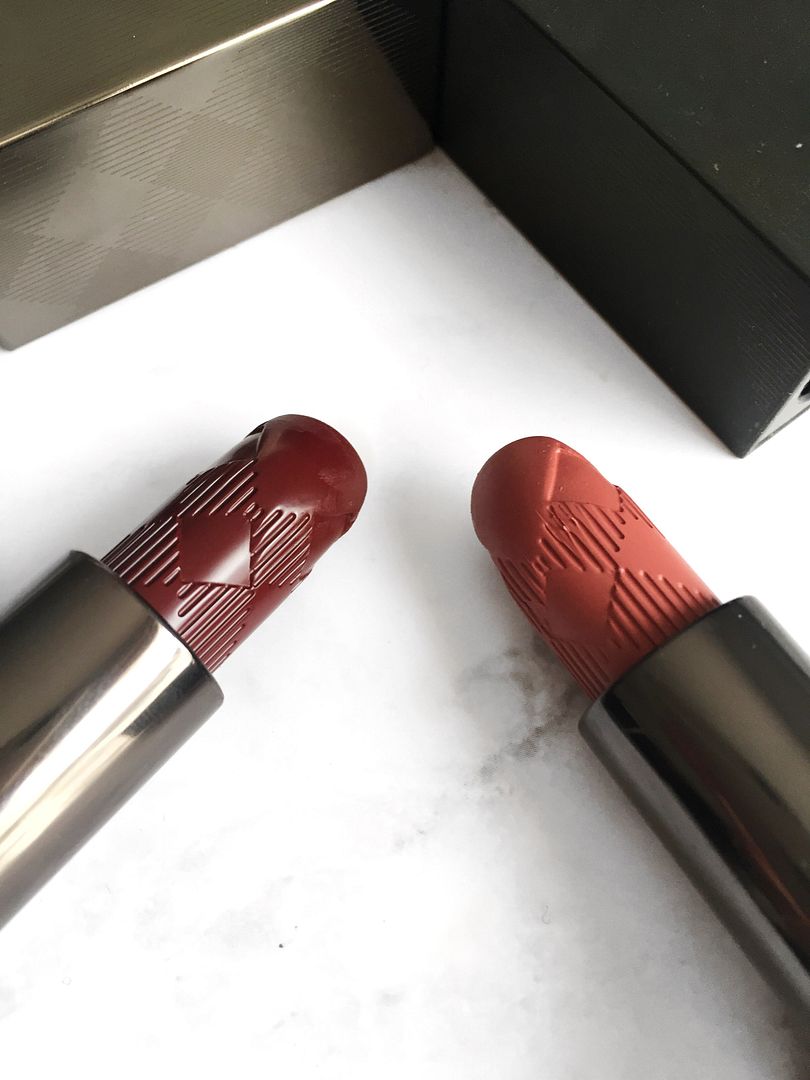 I love switching between the two lipsticks during Autumn, they just feel very Autumnal to me and make me excited for the next few months! Does anyone else have a specific lipstick that they save for this time of year? I feel like we all have those special ones that we love to use at certain times, for me these two are my perfect Fall lipsticks.
Love, Chloe xo
Follow my blog with Bloglovin