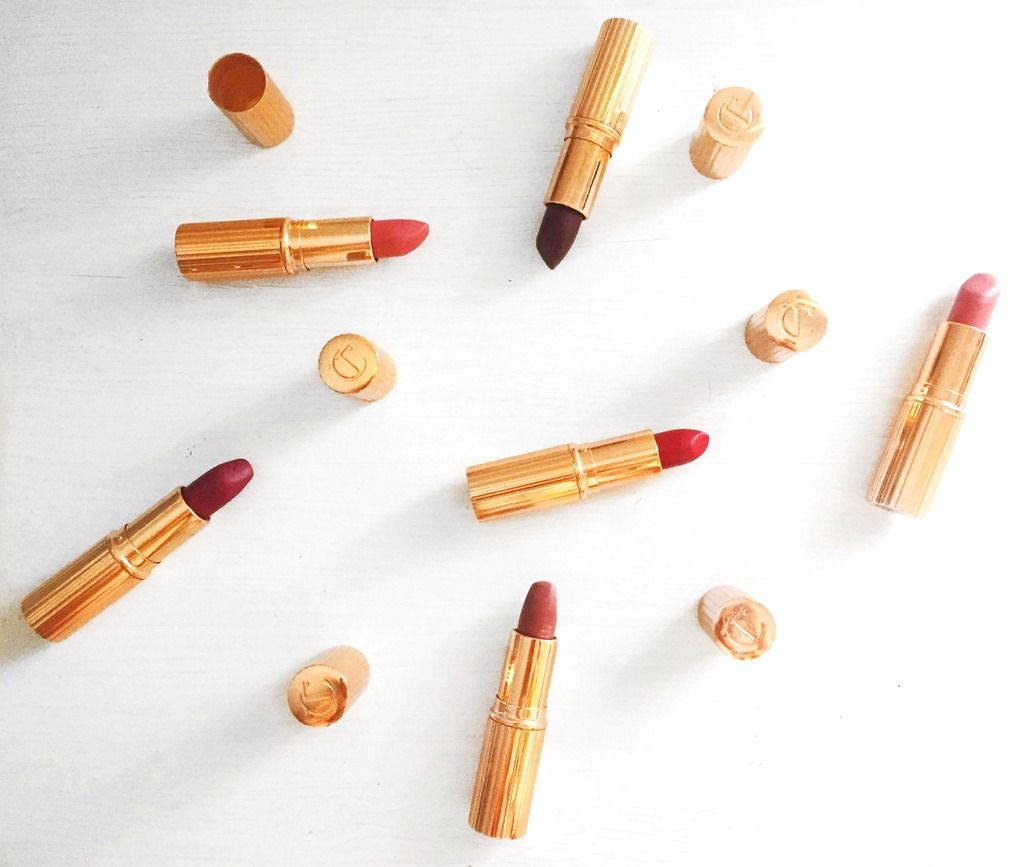 Happy New Year lovely people! I hope everyone had a fantastic time and enjoyed a little break, this week being back at work has frazzled me a little. I had ten days off in total and pretty much had a total switch off from social media and all things work related, it was so wonderful to just enjoy family time and relax. I'm so excited for the year ahead and I'm trying to get my life super organised, which has started with a makeup declutter...
I'm the kind of person that has multiple lipsticks in more or less the same shades but will always buy that extra lipstick because to me, it is worlds different to all the rest. I'm really trying to stop doing this, and whilst going through all of my lipsticks I realised how much I love my Charlotte Tilbury lipstick collection. Of course I already knew that I loved it otherwise I wouldn't have ever bought them, but I love that I have a colour for every occasion and any mood. Whether I'm feeling dark and vampy, bold and glamourous, or understated and casual, my little collection can see me through perfectly for any makeup look. I have similar colours from other brands, but when I compare them in depth, the Charlotte Tilbury shades are so unique and while I may have other colours that are similar, none are a perfect match, not to my eyes anyway!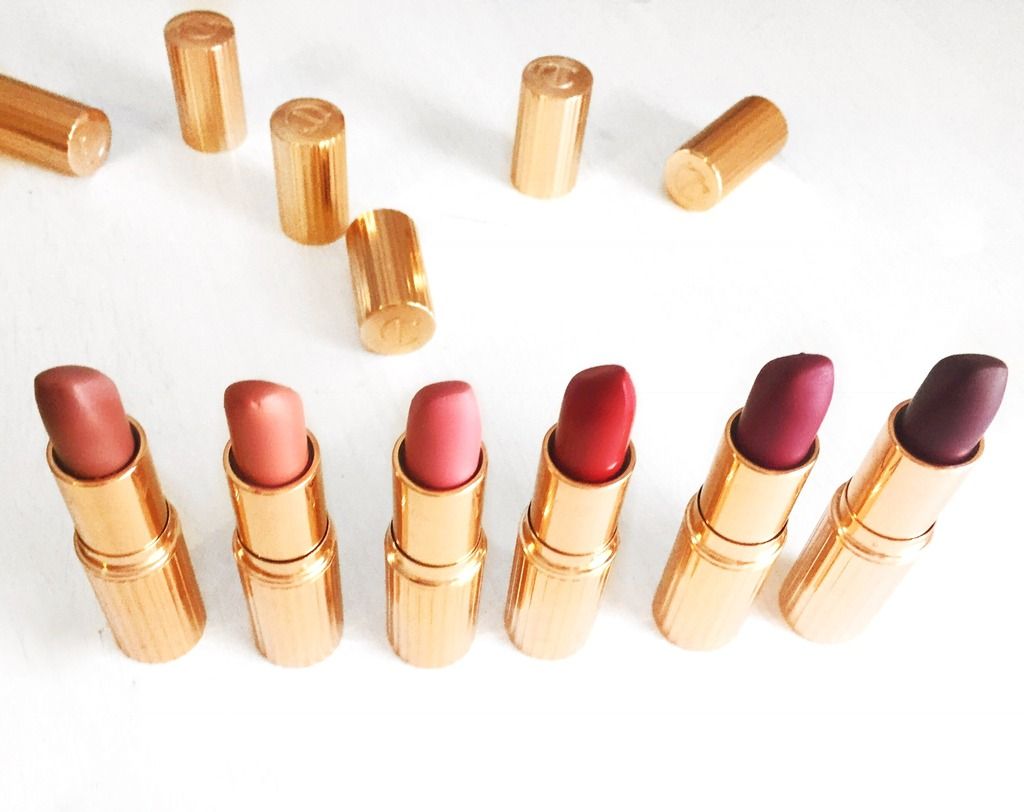 From Left to Right:
Very Victoria, Bitch Perfect, Between The Sheets, So Marilyn, Love Liberty, Glastonberry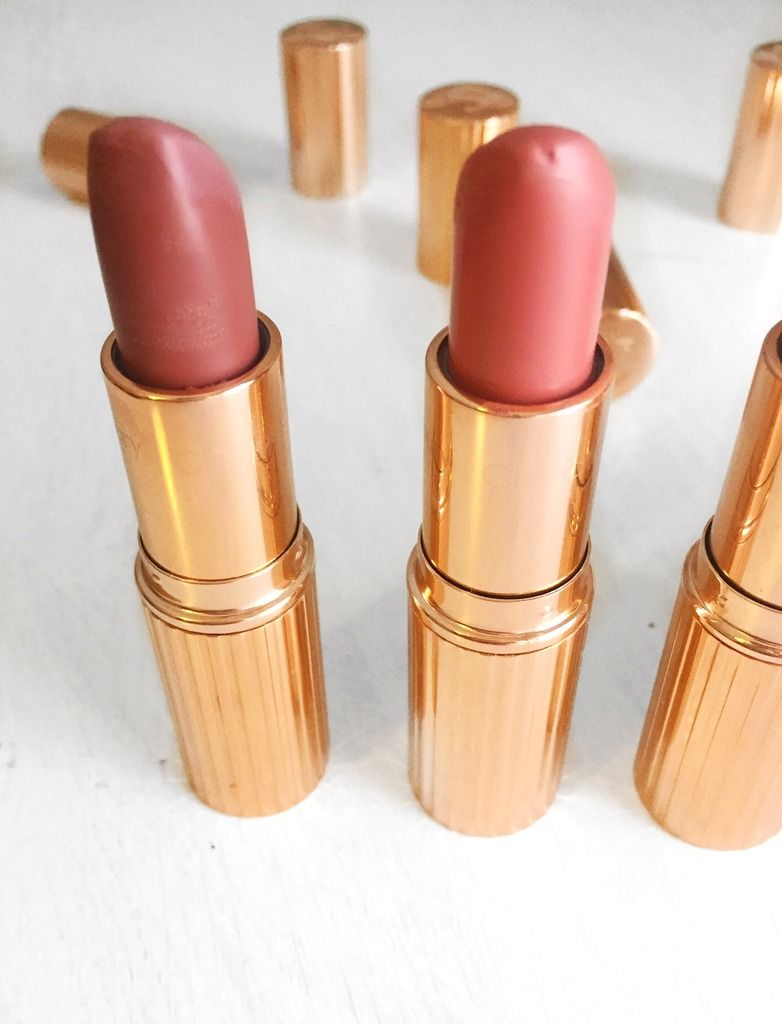 Very Victoria
, Matte Revolution (Left)- This is the most perfect taupe nude lipstick, it has a tiny amount of pink to it but it's just the perfect amount to add a little more colour to the lipstick so it doesn't wash out your complexion. All the matte lipsticks are super creamy and long lasting; I never have any issues with them feeling dry or uncomfortable.
Bitch Perfect
, K.I.S.S.I.N.G (Right)- The perfect creamy pinky nude, lighter than Very Victoria, but still very much a nude lipstick, packed with pink tones this is such a beautiful every day kind of lipstick shade, that is so universally flattering in my opinion. The non-matte lipsticks from CT are so creamy and satin like in finish, so comfortable and just as long lasting as the matte lipsticks.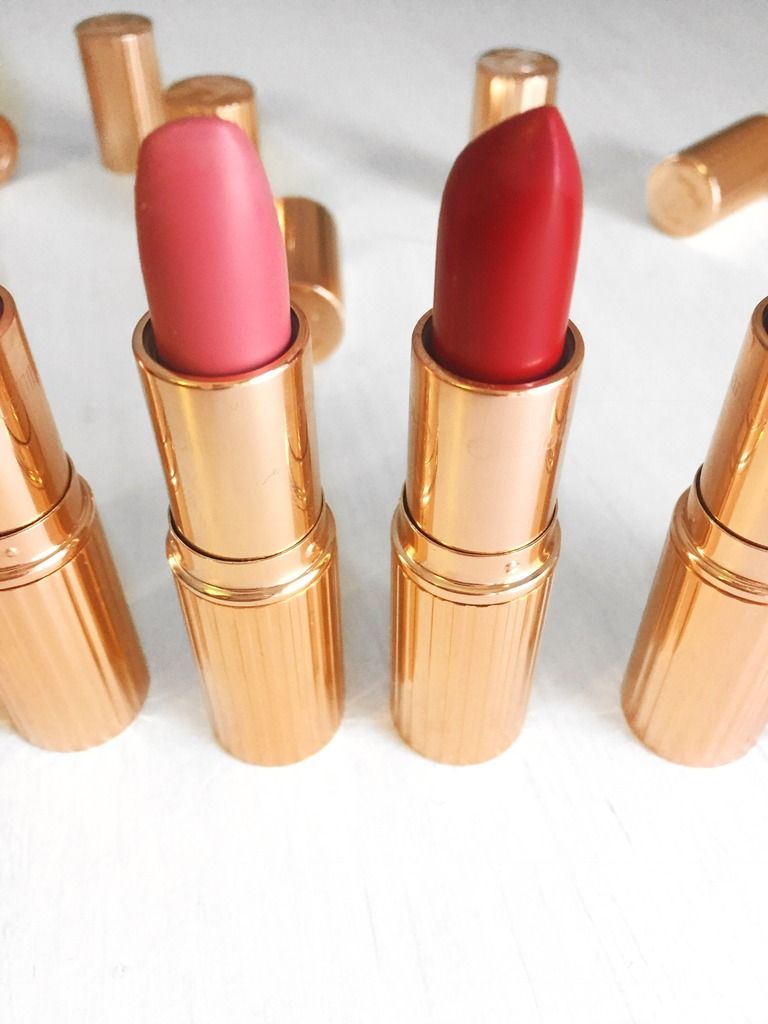 Between The Sheets, Matte Revolution (Left)- This was a limited edition lipstick from the beginning of last year and as soon as I saw the colour I couldn't not snap it up straight away! A gorgeous matte dusky rose pink, this is one of my favourite lipstick shades of all time, I absolutely adore it, and always receive so many compliments on it whenever I wear it. The colouring is just beautiful.
So Marilyn
, K.I.S.S.I.N.G (Left)- A glamorous glossy true red shade. This lipstick seems to be much more glossy than the other shades from the range, but it does create a gorgeous bold lip look, but given the glossiness to it, I tend to find it doesn't last as long and needs more frequent topping up, but maybe that's just a result of wearing it mostly at Christmas time and at party's where lots of drinking and eating occurs!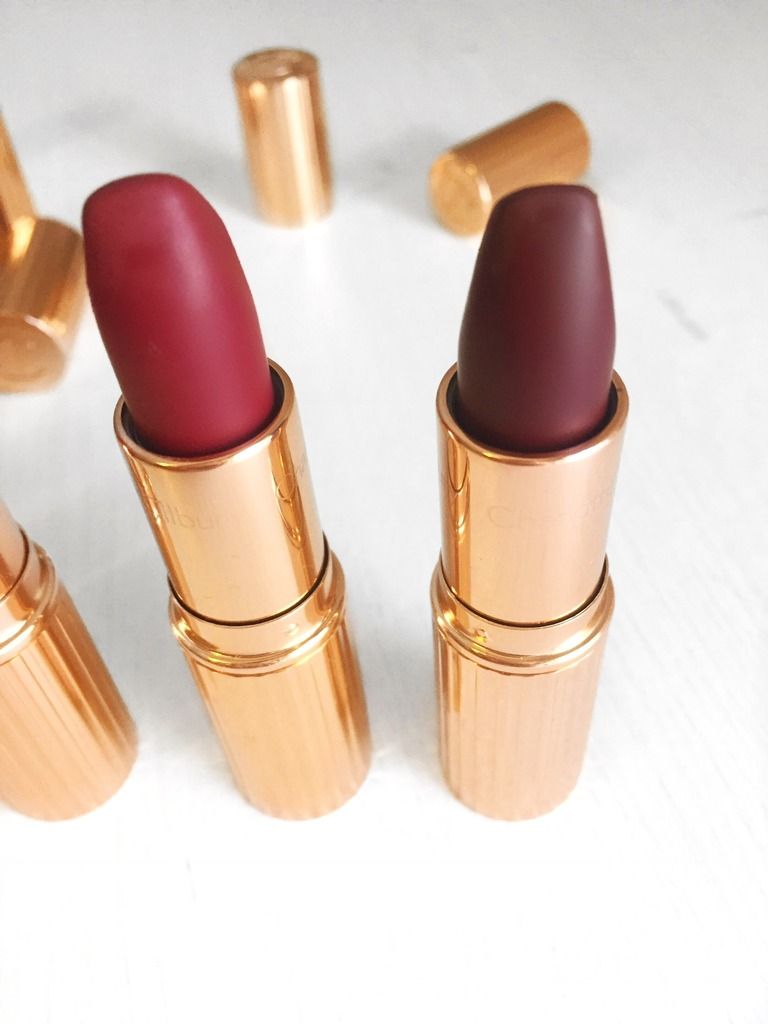 Love Liberty
, Matte Revolution (Left)- This shade is such a lovely alternative to the usual berry tones you see this time of year, it has more of a cherry/fuchsia flush to it than dark berry tones, it's a softer, lighter way of wearing a dark lip, but still just as gorgeous. Love Liberty has been one of my all-time favourite lipsticks for so long now, it's a perfect makeup pick me up.
Glastonberry
, Matte Revolution (Right)- The darkest blackcurrant shade, not a lipstick for the faint hearted or those who prefer to play it safe with their lipstick colour. This one is perfect for Winter, and perfect for adding a bit of edge to your makeup look. This is such a true plum/blackcurrant purple and at first I was hesitant that it wouldn't suit my paler complexion but I've since found that this colour really does look beautiful on everyone.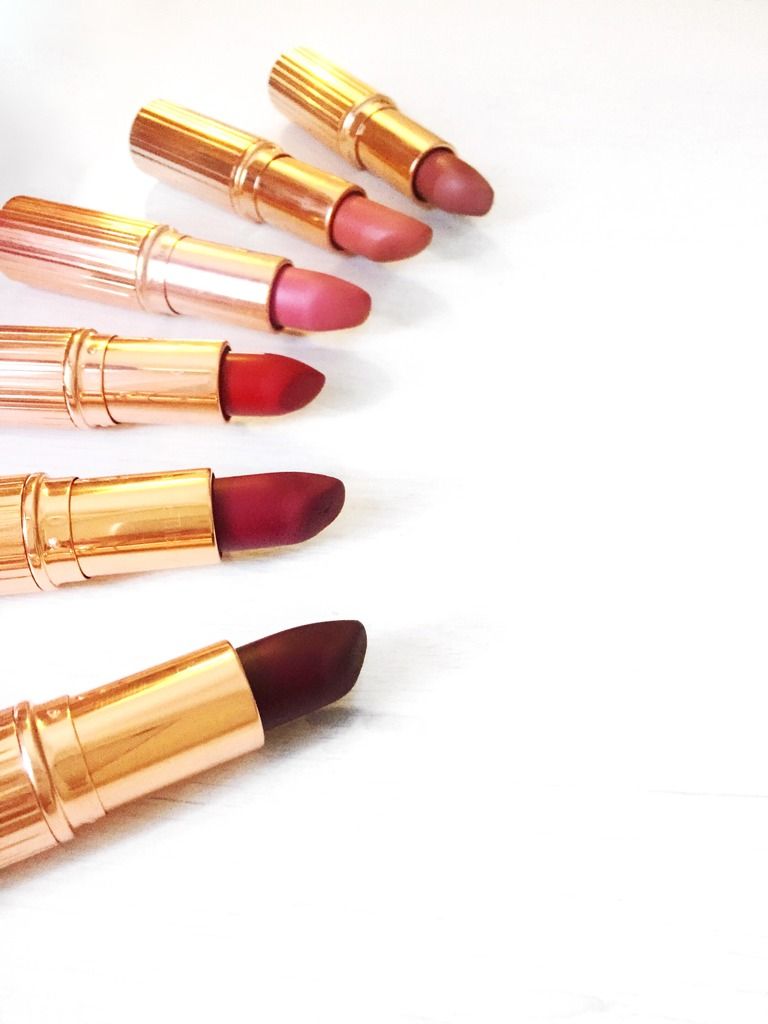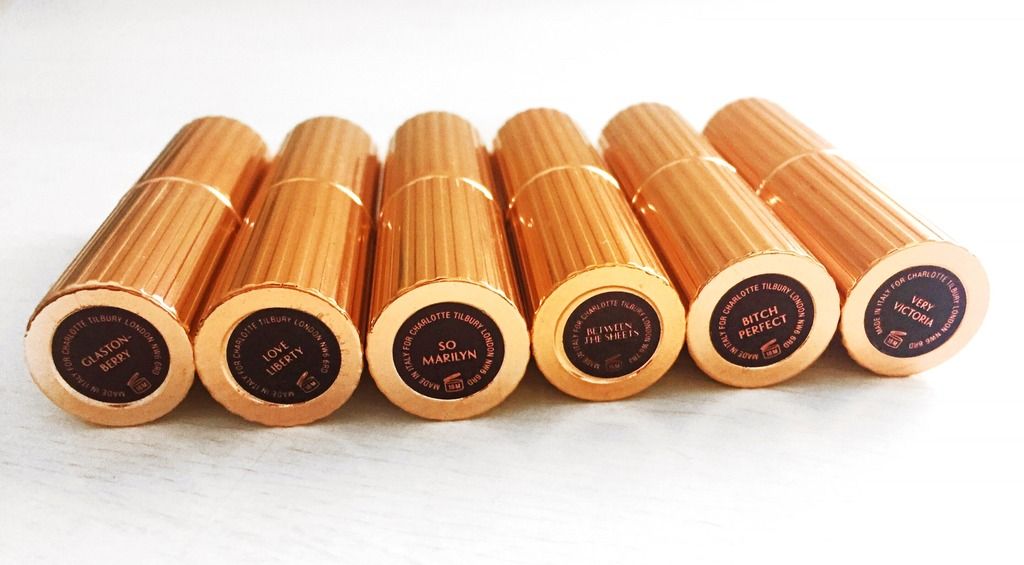 Whether you're looking for a new lipstick to treat yourself, or looking for inspiration for a gift, I couldn't recommend the Charlotte Tilbury lipsticks more. The elegent art deco inspired packaging is just one of the major parts of the attraction to her products, these products look just as beautiful on your dresser, as they do on your lips!
Love, Chloe xo