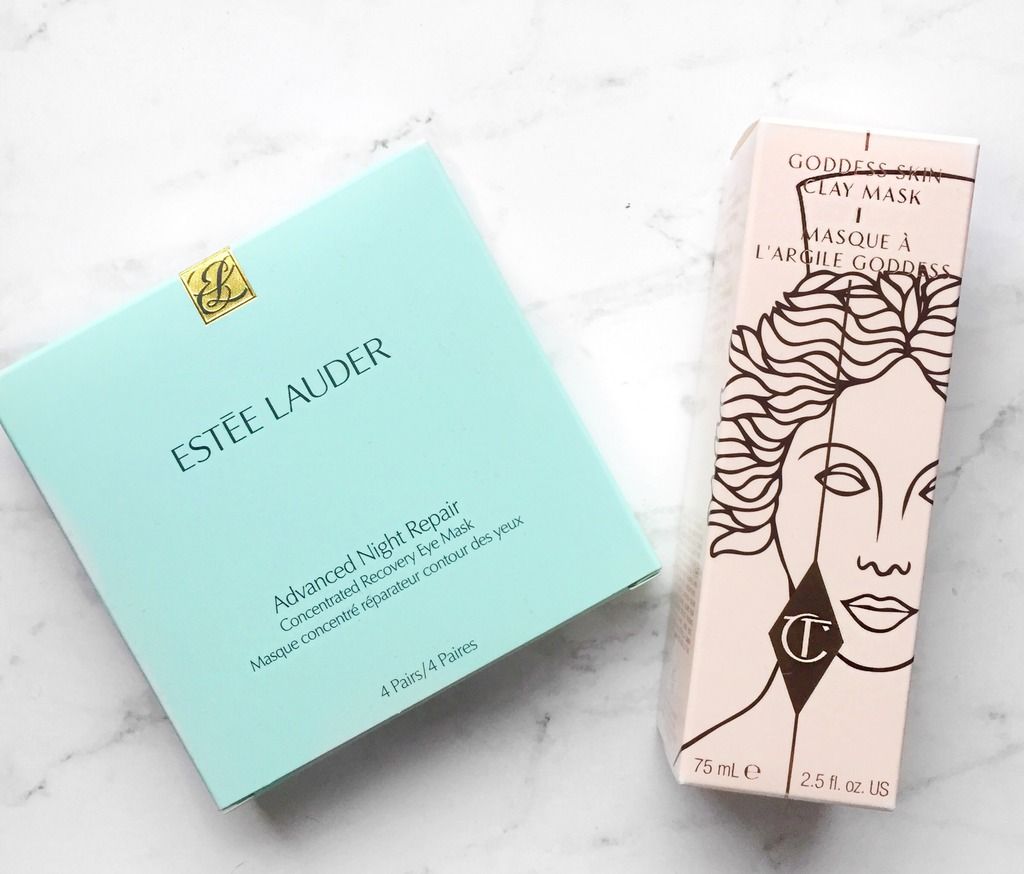 I don't always have the time or energy in the evenings during the week to go all with my skincare, usually my uber pampering skincare time is reserved for the weekend. However, as I've got a long haul flight this weekend I'm all about that skincare pampering right now to try and minimize the results flying has on my skin. I do always take some products with me on the plane, but I find that by upping my skincare for the 2 weeks before I fly, it really helps to prep my skin and get it in its best condition so that it's not too badly affected and doesn't end up shriveled and gross by the time I land and get off the plane. Tonight I've used two mask products as my mid-week treat, the
Goddess Skin Clay Face Mask by Charlotte Tilbury
, and the
Advanced Night Repair Eye Masks by Estee Lauder
. Both have worked perfectly together and have left my skin looking fresh, hydrated and plumped, feeling soft and smooth and looking clear and radiant. That's a whole host of skincare claims but I honestly couldn't be happier with how my skin is looking right now after frequent use of both of these products.
I've used the
CT face mask
via a travel size bottle and sample sachets on and off for a while now and have always been so impressed by the effects of the product, but have never made the jump of purchasing a full size bottle given that it comes in at a whopping £45 (side note, it's now actually £38, CT have changed their pricing in the past few weeks!). Not the most expensive skincare item from Charlotte Tilbury by any means, but expensive in my eyes for a face mask. However, I do completely understand the price, given how effective the product is. Even with just a one use sachet sample, I've never been left disappointment by this product.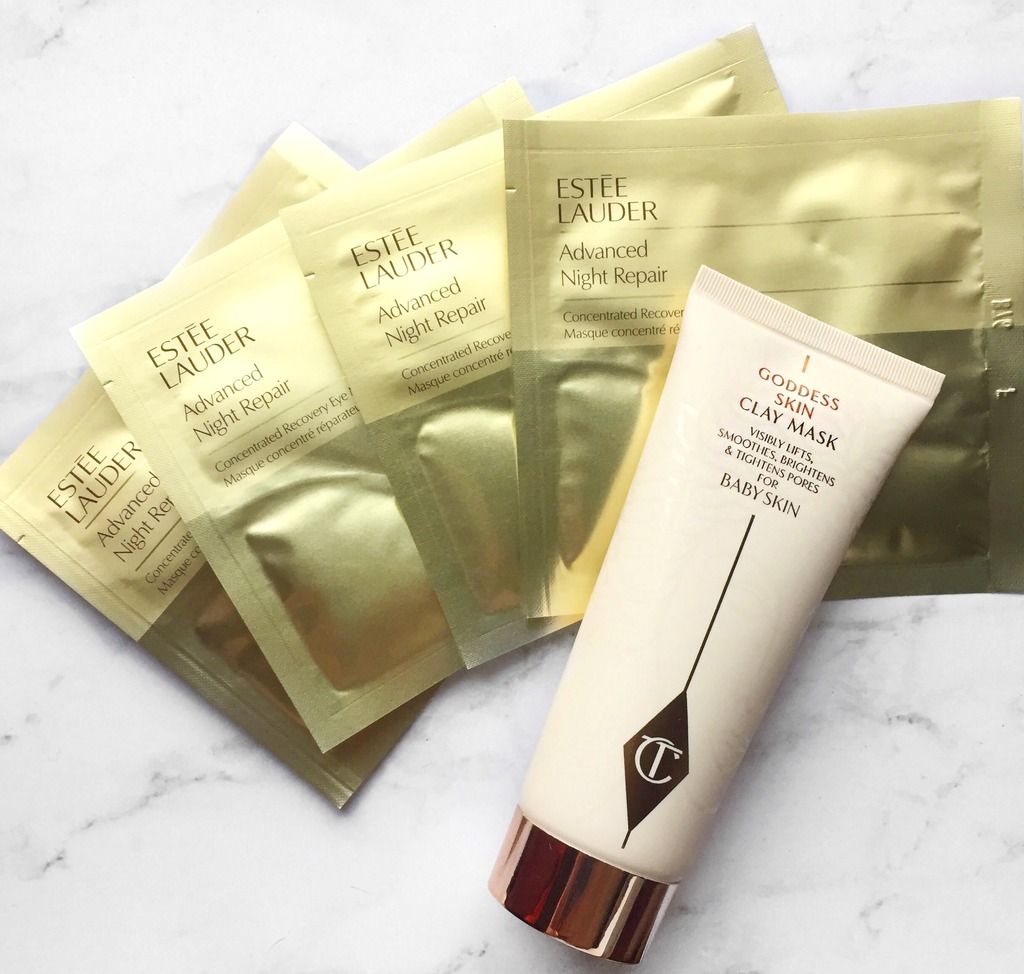 It's a pinky white coloured super creamy clay, that never exactly sets on the skin, it doesn't get hard or tight but it does change from a transferable creamy consistency to a dry stuck to the face consistency. Again though, not hard at all, which means you have full use of your face and never worry about that weird cracking sensation that comes with most clay masks! Leave it on for only 10 minutes, and then wash off with warm water using circle massaging motions on the face. Skin is left baby soft, super smooth, pores visibly smaller and skin noticeably clearer. I've always found that this mask has the ability to stop a spot in its tracks and clear it straight up, it's a little miracle worker! So yes, it's a pretty expensive face mask, but for a product that packs this much of a punch and works so well for me, it's something that I think is well worth the splurge and I'm so glad I've finally got a big 75ml tube in my stash.
After using a single pack of the brand new
Estee Lauder Advanced Night Repair Eye Mask
I was hooked and purchased a large 4 pack straight away. My eye area has never felt so brightened, nourished, plumped and lifted, all thanks to these little eye masks. The liquid product is kept separated from the actual eye masks which I think is genius, it means that when you decide to use the product, you're able to pop the little section and massage the product in to the mask yourself ensuring full absorption and then any leftover product can be applied to the rest of your face, neck and décolletage, meaning no product gets wasted. I'd never really given much thought to other masks and how much product is actually being transferred from mask to skin. With these eye masks, you get to massage the product in yourself knowing full well that you're going to get the most out of the product.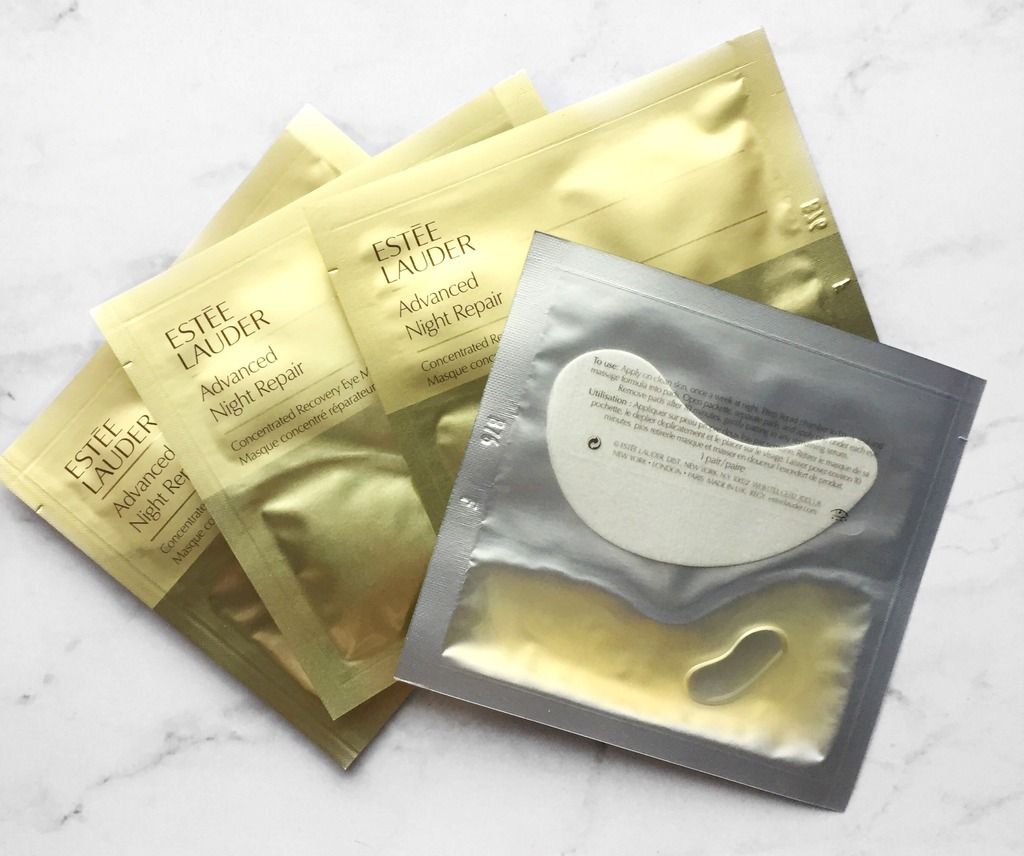 I use these in the evenings before bed and always wake up to the softest and most plumped fresh looking eye area, but these work brilliantly any time of day and I cannot wait to use them as soon as I get on my flight on Saturday. A combination of dry air, air con, staring at that tiny TV screen for hours, an early morning airport start and a long day of travelling tiredness, these eye masks are going to be the perfect travel companion to ensure my eyes stay hydrated and refreshed.
Have you got any skin care essentials for travelling?
Love, Chloe xo